Calls are growing for the UK government to launch an official campaign to encourage people to reduce their energy use this winter in the face of rising bills and fears of blackouts.
Some senior conservatives have been resisting the idea on the grounds that it may sound like the actions of a "nanny state" but there may be a rethink so far.
If and when it does, it would not be the first time the government has funded a campaign to reduce energy use. During World War II, patriotism was at the center of a campaign to conserve coal. Ads and posters in the 1970s encouraged us to "save it"; And during the 1980s, Margaret Thatcher's government wanted all of us to think of "monergy."
In the absence of a large-scale official campaign, there was a plethora of advice from other sources: the announcers squeezed every last drop of information from Martin Lewis, bringing him close to sainthood.
But not all inputs were welcomed. At the beginning of this year, Ovo Energy apologized after a division of the company encouraged customers to keep warm by "making some star leaps".
With no widespread push by the government, and some current information being touted with a dubious standard, what do energy experts think of the advice given by previous campaigns?
World War II
Energy-saving campaigns during World War II usually had a clear and simple message: Use less – war comes first.
In the "Battle for Fuel" campaign, we were asked to turn off the lights and shut the windows because "submarines devour coal". These messages will continue in subsequent installments to conserve energy, and they still appear in campaigns around the world today.
"LEDs and other low-energy light bulbs have significantly reduced the energy used to light our homes," says Joanna Ulluan, Director of Knowledge at Energy Saving Trust. "However, this is still good advice – turning off LEDs in the average home when they aren't In use results in a saving of about £9 a year."
Some wartime advice provided very specific detail, with posters claiming the benefits of delayed pipes and tanks could "save up to one ton of fuel per year" and provide detailed instructions on how to rewash the taps to prevent them from leaking.
During the early 1940s, moviegoers were shown a naked man who encouraged them to run only "five inches of warm water" into the bath, his ankle shaped like a makeshift ruler to ensure an accurate filling.
O'Loan says most heating systems work differently now, but if you have an old hot water cylinder with foam insulation less than 25mm thick it's a good idea to consider installing an 80mm insulation jacket, this can save you around £70 in year on your gas bill.
Leaving hot water pipes behind is still a good idea, too. The Energy Saving Trust believes this will generate savings of around £9 per year, with insulating collars typically around £1.50 per metre.
It's worth staying on top of any leaks, too. A falling faucet may waste an estimated 5,500 liters per year, costing you an average of £14 extra.
Limiting the amount of hot water you put in your bathroom is still a good idea, but for even greater savings, showers outperform bathrooms—as long as you limit how long you spend there. "If you swap out a 70-liter bath for a four-minute shower once a week for a year, you can save £9 per person," says O'Loan.
1970s: save it Campaign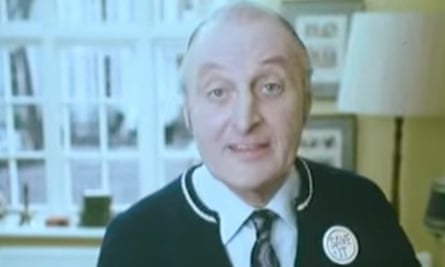 The official-looking red stamp tagline "Save It" and the message "Energy is Common Sense" was at the heart of a multimillion-pound campaign in the 1970s. Ministers later claimed that it brought savings to the country of £330 million.
A 1976 media movie loaned Delia Smith star, her knit T-shirt emblazoned with the Save It badge. With the in-laws attending for dinner, she has to cook something "a bit special" – but that doesn't mean she can't be economical.
Filling an oven full of food, including "dad's favorite dessert," bread and butter, as well as marinated chicken, rice, leek soup, and potatoes, she tells the viewer, "Cooking everything together really saves fuel, and nowadays I think the cook is an economical one."
O'Loan agrees with Delia. In general, a stove and microwave will use less energy than running an oven — but you may find it a bit difficult to cook something 'a bit special' using the microwave and stove alone. Delia is right: If your oven is going to run anyway, cook everything together. To save energy. Combine cooking in the oven and heating up leftovers later in the week in the microwave can be economical."
Barry Bucknell, the TV presenter who popularized DIY, was another name recruited for the introduction to the public information movie Save It, which advised people to make sure their central heating system was regularly serviced and running efficiently.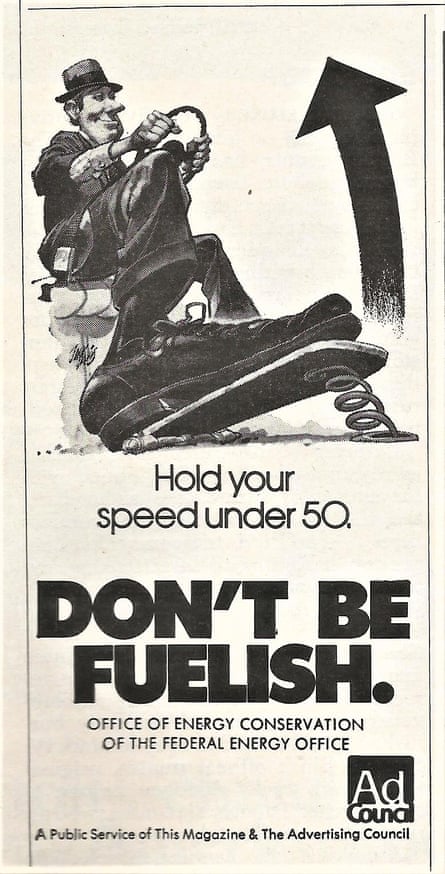 United State wear a dress"t be fuel Campaign
The energy crises of the 1970s led the United States to launch a "Don't Be Fuel" campaign.
During the mid-1970s, an informative pamphlet was published with a foreword by the President, Gerald Ford: "…as one of my first requests as President, I ask each of you to apply our most abundant natural resource–American ingenuity–toward including energy conservation in your life."
The brochure was filled with many suggestions that are still promoted today. They included insulating your attic and using energy-consuming appliances during off-peak hours, as well as a few less talked-about ideas: the importance of keeping lamps and lighting clean because "dirt absorbs light," and when it comes to decorating, "lighter colors of walls, carpets, curtains, and furnishings reduce the amount of light." synthetic required.
A prominent part of the campaign focused on cars. Touted the benefits of lift sharing as well as maintaining your speed when driving, even though the speed people were told they should aim for was inconsistent, with print ads extolling the benefits of staying under 50mph but a short film in front of the Rockford Files star says James Garner: "Please drive under 55."
Dr. Stephen Fox is an energy efficiency specialist and says "you have to take into account the road conditions" but cars get the best miles per gallon "somewhere in the 40-60mph range." He adds, "You shouldn't just think about speed – fast acceleration and lots of stopping increases consumption. Smooth driving can save huge amounts of fuel."
When Jimmy Carter became President of the United States in 1977, he demonstrated his green credentials by installing solar panels on the roof of the White House. In a television speech, wearing a cardigan in front of an open fire, he encouraged the audience to do their part by setting the thermostat to "65 degrees" [fahrenheit] in the day and 55 degrees at night." He reportedly played his part by going around unplugging the televisions and turning off the air conditioning units.
Fox says the exact temperature to set for your home will vary depending on personal preference and the nature of your home, adding that "the air temperature can usually be several degrees lower in a well-insulated home than in a typical home."
By the way, it's worth noting that the UK actually got there first when it came to this slogan: WWII energy-saving posters bear the message "Don't be fuel."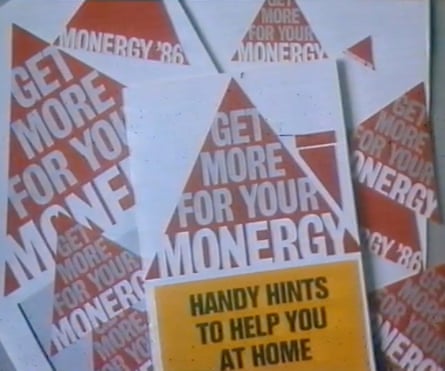 1980s: File Get more for your Monergy Campaign
Monergy, described at the time as memorable but "not the most elegant word ever", was the buzzword of the UK's 1986 campaign, which was known as the "Year of Energy Efficiency".
Then-energy minister Peter Walker said the campaign was aimed at stopping "the egregious waste of money and energy that Britain is currently indulging in".
A series of color short films, depicting a family of pigs, suggested cavity wall insulation could save you "about £4 a week every winter", and "pull stripping" (draft-checking) could save you "about £1 a week". ".
The Energy Saving Trust says most modern homes are built with insulators already installed, but if you haven't already got cavity wall insulation, this typical home could save around £395 a year. You can check your home's Energy Performance Certificate (if you have one) to see if you have one.
If you decide to install it, the trust says that it is important that you do your homework on a reputable installer. Verify that it is registered with the National Insulation Society, the Cavity Insulation Guarantee Agency or the British Council on Agriculture. Experts recommend getting at least three different installers for a quote before moving forward, and ensuring their 25-year insulation is guaranteed by CIGA or by an independent insurance-backed warranty.
And according to Olon, the rest of the advice from the pig family is still stacked up, too.
'Stripping the drafts more commonly called draft auditing these days can make a huge difference, especially for those of us in old, gritty homes. Insulating windows and doors can save you around £60 a year off your energy bills and can be done as a DIY job. -You can buy strips, sealants, and a brush from any DIY sourcing retailer." However, be careful not to block or close any intended ventilation, including vent fans, grilles, air bricks, wall vents, or falling window openings.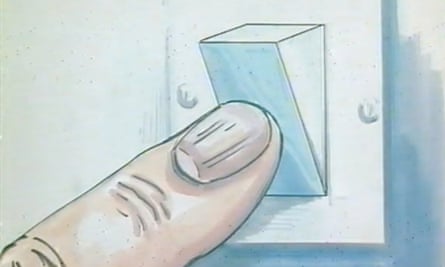 Do decades of repeating the same advice to us mean the public isn't paying attention? Or that what we are sometimes told won't make as much of a difference as public information campaigns?
"We have made great strides in home energy efficiency over decades, no doubt thanks to some of these campaigns," says O'Loan. "In 2020, just over half of homes had cavities or solid wall insulation, up from 41 % in 2010. Against the backdrop of rising energy costs and the challenges of the climate emergency, it can be difficult to estimate the improvements that have been made."