Hot sex scenes in "Bridgertons", "Sex Education" or "365 Days" make many viewers wonder "is this really happening?" The intimacy coordinator revealed what working on the set looks like during the shooting of bold and realistic-looking erotic scenes and showed what gadgets are used to cover the private parts of the actors.
Jessica Steinrock, who has worked on such series as "Little Fires Everywhere" and "Fear the Walking Dead", revealed a secret about her work. For years, Jessica has been working as an intimacy coordinator on a film set, i.e. she makes sure that the actors taking part in erotic scenes feel safe and comfortable, and what we watch on the screens seemed to be true to us. The trainer published a video on her TikTok in which she revealed the backstage of working on the set.
"Here are some of my favorite gadgets for filming sex scenes on TV"

"How do we make scenes look real on TV? Well … sure these things are part of it!"
"I'm an Intimacy Coordinator, so I do choreography for spicy TV scenes.
First of all, we have special stringless thongs that cover the private parts and stay in place thanks to the glue. "
A special thong that sticks to the body. @intimacycoordinator

Photo: Tik Tok

"For added safety, we use body tape in a variety of skin tones to make sure the garment stays in place."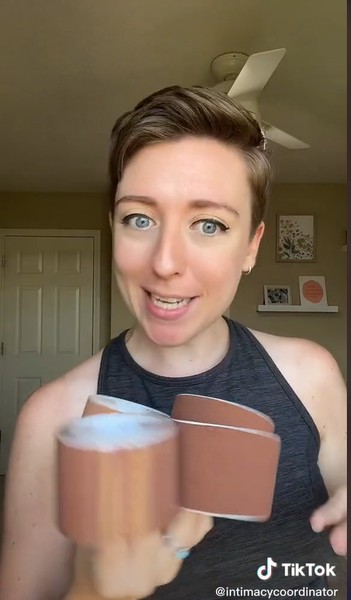 Tapes matched to the skin tone Fig. @intimacycoordinator

Photo: Tik Tok

"Then we have handy silicone stickers. These are the ones I use every day. They help the actors cover up their private parts and protect them from over-stimulation."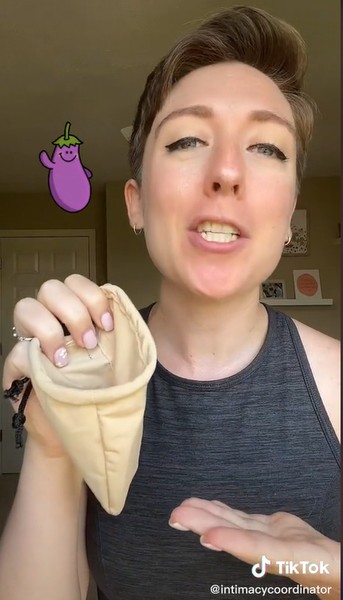 A special bag for male genitalia Photo. @@ intimacycoordinator

Photo: Tik Tok

"We also use special flesh-colored pouches that cover the male genitalia."
How are the sex scenes made in movies?

Everything looks sensual and light on the screen, but the sex scenes in movies and series require hard work and many hours of preparation. People like Jessica make them as convincing as possible for the audience and as comfortable as possible for the actors.
Here are some of the secrets to shooting realistic sex scenes on TV and in movies:
Nudity and simulated sex are detailed in the actor's contract and discussed prior to casting
This document is negotiated by the actor, his managers and the production team, and the contract includes detailed descriptions of what the actor is willing to do on the screen. It includes scene information, the type of nudity required, restrictions, and any details and conditions the actor and producer have agreed to. The contract contains small details, for example which parts of the body will be visible, how much the body part can be exposed and how long it will be displayed on the screen. Actors have the right to withdraw at any time prior to the shooting of a nudity scene if they believe that it violates the contractual terms.
Some directors want sex scenes to be choreographed in detail
Neil Patrick Harris told Out magazine in 2014 that the sex scene in the movie "Gone Girl" had been elaborated on. "We had to rehearse the sex scene with David, every inch of it." Then you put your lips on his nipple there, then a specific number of thrusts, and then ejaculation. We know exactly what will happen every second of that scene. " Regé-Jean Page and Phoebe Dynevor explained that every single sex scene in Season 1 of The Bridgertons was carefully planned and well rehearsed with the intimacy coordinator. "I'm really proud of these scenes," Phoebe said. "We worked really hard to make them look realistic. And I also felt very safe with Regé and the Intimacy Coordinator. We treated the sex scenes as if they were complicated acrobatics, so we knew exactly what we were doing when we got on the set."
Some actors prefer to independently work out the details of the erotic scene that they will shoot with their on-screen partner
In an interview with "The Hollywood Reporter" in August 2020, Kate Winslet said she choreographed the sex scenes with her partner Saoirse Ronan in the movie "Ammonite." "I think Saoirse and I just felt really safe. Francis was naturally very nervous. And I just said, 'Look, let's figure it out.' We did. 'We'll start here. We'll do it with kissing, boobs, you go down there, then you do it, then you come in here «.
In some cases, intimacy coordinators appear on the set to help with the realization of the intimate scenes
Intimacy Coordinator Ita O'Brien, who spoke to Insider in April 2020, said her work was becoming more common and her role was essential on the set. O'Brien, who worked on Normal People, added that she helps "choreograph intimate scenes, determine where actors will have sex in a way that suits the narrative of the film or series. She also helps create an environment where actors can express boundaries." and say no without repercussions.
Sometimes when an actor refuses to shoot nude scenes, doubles are used and / or CGI is used.
If a production wants to cast an actor who for some reason refuses to appear in scenes of nudity, it often uses the services of doubles. Like the foreground actors, doubles have nudity clauses in their contracts that clearly spell out the details of their contract with the production. Things can get a little more complicated if the scene requires the actor's face and naked body to be shown simultaneously. In such cases, in post-production, images are computer generated by joining the actor's face with the body of the understudy. This technique was used in the Season 5 finale of Game of Thrones, when Cersei takes a naked walk of penance.
Although they are often short scenes, shooting them can also take quite a long time
Anne Hathaway said it took a while to film the sex scenes in Love and Other Drugs as she had to have her body makeup tweaked quite often. "Every time I put my bathrobe back on, I wiped off all my makeup, and that added another 20 minutes to filming." Justin Timberlake confessed that shooting the sex scenes for the movie "Friends With Benefits" was incredibly time-consuming. "You've been there for 12 hours, it's exhausting."
See also:
Coordinator of intimacy in films: The creators often do not know how to behave
Sexual Experiments? Yes, but with your head! These games can end badly